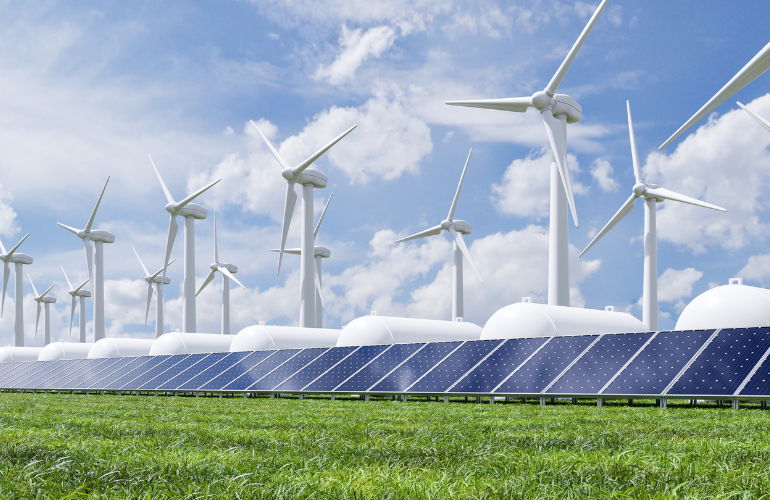 Your Path to a Sustainable Future with SunnySide Renewable Energy Services.
Green Hydrogen's Potential: Enabling a Cleaner and Greener Tomorrow
Are you prepared to embrace a greener, brighter future? SunnySide Renewable Energy Services is at the forefront of the renewable energy revolution, providing cutting-edge Green Hydrogen solutions that have the potential to reshape how the world is powered. With our unwavering commitment to sustainability and cutting-edge technology, we deliver tomorrow's energy today.
Discovering Green Hydrogen
Green Hydrogen is a game-changing, renewable energy source that contains the key to solving the planet's most pressing environmental problems. Unlike conventional hydrogen production methods, which rely on fossil fuels, Green Hydrogen is produced through an innovative process known as electrolysis. We produce purified, emission-free hydrogen by separating water molecules into hydrogen and oxygen using renewable energy sources such as solar, wind, and hydroelectric power. Thus, Green Hydrogen is an indispensable component in our struggle against climate change.
Our Green Hydrogen Solutions
At SunnySide Renewable Energy Services, we are proud to provide a comprehensive suite of Green Hydrogen solutions that are precisely tailored to meet your energy requirements while minimizing your carbon footprint. Our team of experts is motivated to develop individualized solutions for a variety of industries, including transportation, manufacturing, and energy storage. Our range of services comprises:
Production of Green Hydrogen: We are committed to producing ultra-pure Green Hydrogen through the use of renewable energy, ensuring a sustainable and dependable source of clean energy for your operations.
Hydrogen Storage Solutions: Our cutting-edge hydrogen storage technologies ensure efficient and secure storage, allowing for continuous access to pure energy even during intermittent renewable energy generation.
Hydrogen fueling Stations: Embracing the future of transportation, we are actively constructing a network of hydrogen fueling stations to encourage the adoption of fuel cell vehicles and facilitate a cleaner, more environmentally friendly commute.
Integration of Hydrogen Consulting: Our expert consultants provide invaluable guidance for integrating Green Hydrogen solutions into your business, thereby optimizing energy efficiency and minimizing environmental impact.
Why Choose SunnySide Renewable Energy Services for Hydrogen Solutions that are Green?
Dedication to sustainability: Sustainability is central to our values. By choosing Green Hydrogen services from SunnySide, you become an integral part of the movement to create a clearer, greener planet for future generations.